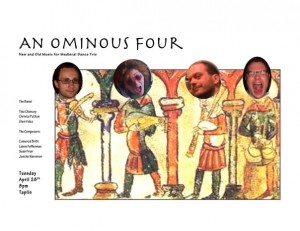 In the fall of 2008, Princeton gave the four of us (me, Jascha Narveson, Sean Friar, and Cameron Britt) the traditional second-year assignment: pick a piece or a body of music and react to it with a new composition.  What'd we do?  We banded together to hire a medieval dance band and reacted to the party music of the fourteenth century, of course!
Wouldn't you?
We were pretty blessed that we got the likes of Tina Chancey, Christa Patton, and the jaw-droppingly dexterous Glen Velez to be in our band.
I decided to use the form of the Saltarello dance combined with an exhaustive exploration of all of the permutations of only four pitches.  I'm pretty happy with this timey-wimey rip in the fabric of history… give a listen!