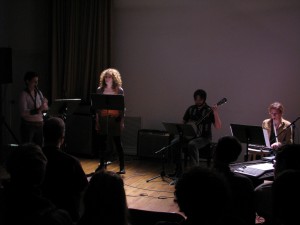 Ok, this band has been flying under the radar lately, but with this collection of amazingly talented friends, it's hard to stay undercover for long!! We're folky, we're quirky, we make ribbit-y noises and lovingly fondle banjo heads… we're Phthia!
Phthia is:
James Moore on banjo, mandocello, guitars, etc.
Sara Budde on clarinet and bass clarinet
Mila Henry and Missy Mazzoli on melodicas
Andie Springer on fiddle and croaking frog instrument
and me singing and melodica-izing and… who knows what else!
It's like I took a food-processor to a bunch of my loves (Pete Seeger and Steve Reich, Meredith Monk and Georgian choral music) and some song-fritters came out.
So stay tuned for a few fresh and rowdy tracks!