It's back!  For the seventh year in a row, Make Music New York and Friends of the High Line bring you The Gaits, a soundwalk a few of us nerdy composer folks proposed a few years ago for a MATA open call for parade ideas inspired by Phil Kline's Unsilent Night.  I love Unsilent Night – Phil Kline captured the warm, frosty glow of holiday music while creating a sense of community without needing to tap into a specific religious tradition.  I found that so inspiring, and went right to work coming up with a proposal that would be fruit of the same lovely tree.
So co-conspirators Jascha Narveson, Dan Iglesia, Cameron Britt and I all teamed up to create an event that would have that same sense of holiday spirit and community music making.  What'd we come up with?  The Gaits: an app for iphone (and this year android, thanks to Dan!) that employs users' footsteps to create a unique, location based piece.  The Gaits only works on the High Line – the sounds we chose are specially linked to specific locations in the park (which we can ensure by tapping into the phone's GPS information!). This year Jascha Narveson and I did a Q&A with the High Line about the evolution of the piece over the last seven years and where we hope it's going in the future!
The first hundred people to arrive (come early! one year we had about three hundred folks show up!) will get to borrow little external speakers to amplify their glorious chime and drone sounds.  I also heard a rumor that there may be hot chocolate and churos again this year… and this year my trademark bucket of fresh-out-of-the-oven cookies to eat before the walk will be vegan!
So come out and join us!  All the info you could ask for is on the MMNY site (check it out here) but shoot me an email if you have a question.  There are a bunch of fabulous parades being produced by MMNY all day all over the city on the 21st, so make sure to browse their site with a good appetite!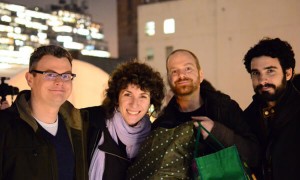 The Gaits
Monday, December 21st, 5:30pm (walk leaves at 6pm)
The South End of the High Line - Gansevoort and Washington Streets
Link to Event page here