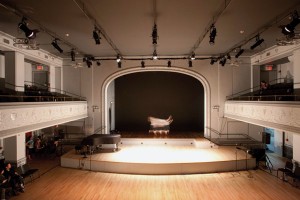 I'm really excited to be part of the Roulette Artist Residency Program, with support from the Jerome Foundation – Roulette is such an important, supportive part of the Brooklyn new music landscape and everyone from Jim Staley to the remarkably talented sound staff to the excellent admins make this place a joy to have in my life.
The culmination of this residency is taking place on May 1st, with a performance of Here I Am, my biggest, hairiest piece so far.  Below is a trailer Newspeak, Va Vocals, and I made to introduce you to the impetus behind this piece – the Hebrew bible.
You can buy tickets in advance here, and read more about the project here!
8pm on Thursday, May 1 at Roulette